Pastor Craig Springer was the keynote speaker on January 22, 2020, for the community of pastors and ministry leaders who gather quarterly for Church United. Today's meeting was hosted by Family Church, Downtown.
After serving as lead pastor at such megachurches as Willowcreek Community Church in South Barrington, Illinois and Cherry Hills Community Church in Highlands Ranch Colorado, Craig stepped up to serve as Executive Director of the organization, Alpha.
I in them, and you in me, that they may become one, perfectly united, so that the world may know that you sent me and have loved them, just as you have loved me. John 17:23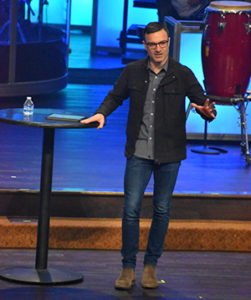 Alpha is a worldwide mission that involves a series of eleven sessions that explore the Christian faith, each one exploring a different faith question that is used to invite conversation.
After breakfast, worship, prayer and announcements by Pastors Todd and Julie Mullins, Pastor Craig Springer opened with a reference to John 17:23, "I pray that the world may be one so that they may know…" reminding us that our goal is unity, not uniformity.
"Uniformity says that we all have to all be the same in every way. Unity says we can't all be the same in every way," Craig said, "but we come together for the sake of mission. Unity is not just a great idea to come together. Unity is a strategy for God's Kingdom."
Craig paused his talk to invite pastors to get into groups of three to discuss the question, "What is the greatest challenge or barrier to creating an evangelistic movement in your context?"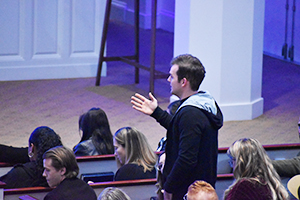 The audience chuckled as one person stood up and gave his group's answer of not knowing how to transition from "Hey, how are you doing?" to a discussion of substitutionary atonement. Another guest suggested that fear of man or fear of judgement was a significant barrier.
Craig said that in his context the greatest challenge was how to mobilize the next generation to evangelize when 47% of millennial Christians believe that evangelism is not just wrong but actually immoral. Less than half of all Christians in the U.S. have just two, or fewer, faith conversations per year. Churches are suffering and millennials and Gen X-ers are increasingly disappearing from our churches. However millennials are having more faith conversations than any other generation.
Jesus asked 370 questions in the Gospels. He was asked 183 questions. Jesus directly answers eight questions in the Gospels.
"Jesus asked 370 questions in the Gospels. He was asked 183 questions." but, Craig said, "Jesus directly answers eight questions in the Gospels." This is an entirely different approach than how we design our evangelistic strategies. "Jesus is 40 times more likely to respond with listening than He is with a direct hit," Craig said. "Admittedly, we must proclaim [the Gospel] at our churches, but what about the people who don't show up to hear the proclamation? We need to return to Jesus' way of sharing, which involves having a conversation with others." Evangelism can be as easy as conversation around the dinner table with an emphasis on listening.
Learn more about the Alpha approach by visiting AlphaUSA.org.