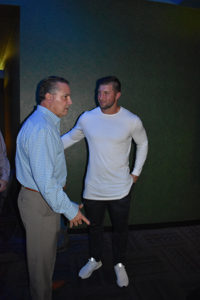 Tim Tebow, his fiancé, Demi-Leigh Nel-Peters, and Executive Producer, Bill Reeves, arrived to the AMC Theater in Port St. Lucie on Friday evening, February 22 to view Run the Race, the newly released Christian movie.
A group of about 60 pastors, promoters and friends in the area were invited to watch the movie's debut at the Port St. Lucie theater.
After the movie ended, I asked Tebow what he thought of the movie. He said, "It was a lot of work, but I feel like it's very real movie, and it hits home for a lot of people in the scripting. It's not fake and that's encouraging. It doesn't end with everything being perfect."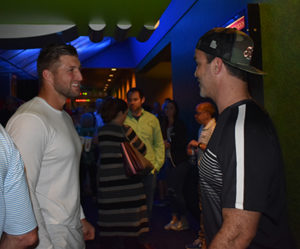 Travis O'Neil, Senior Pastor of Christ Fellowship, Pt. St. Lucie and his wife Jenni were among the group of guests.
Pastor Travis said, "What they kept saying throughout the movie is that no matter what comes your way, God is always faithful. God is always with you, and He is going to bring good out of it. That's something you can take to the pulpit every single week."
Pastor Travis was struck by the authenticity of the movie, "I thought it was extremely practical in the things that the movie revealed. It's a feel good movie, but it's real."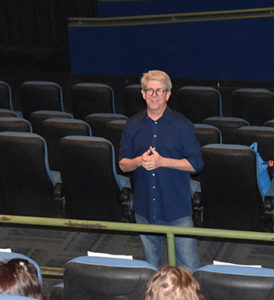 Executive Producer, Bill Reeves compared the movie to a pregnancy. After the eleven years it took to raise funds for the movie and the three years of producing, they were ready for the movie to come out, Reeves said "Any time you work on a movie for three years, it's like you're pregnant and you're ready for the baby to be born, so this weekend is that time for us." Reeves said.
In its first weekend, the movie is getting rave reviews and lots of attention. Reeves said, "Social media has been lit up this afternoon, so we're very excited about that."
See Entertainment Editor, Michael Foust's review of Run the Race.
Article first appeared on Palm Beach Christian Voice